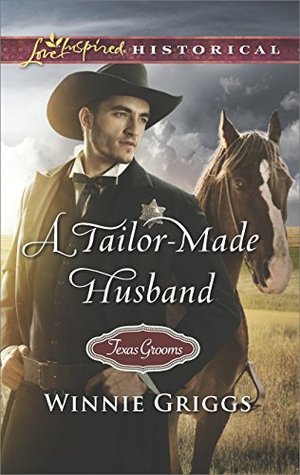 Lucie's Review:
Sheriff Ward Gleason returns to Turnabout with 4 year old Meg. He doesn't want her to go to an orphanage so he decides that she will stay with him until he can find a relative to take her in. Ward can't be with Meg all the time, so he asks his sister's best friend Hazel to help him out.
Hazel Andrews operates the town's dress shop, she is touched by Meg's story and is impressed by how well she is taking her change of situation. Hazel agrees to help watch her during the daytime.
Will Hazel and Ward be able to give Meg a family?
Meg is a darling girl, she has a sunny disposition and a trusting nature despite everything that she has been through. Meg brings out the best in Ward. He calls her "Half-pint" and reads to her at night.
Hazel has liked Ward for a long time but he never returned her interest, but she is determined to follow her dreams and move to New York to work with her aunt. It's hard to sell dresses now that people can buy them ready-made.
Ward is under a lot of pressure, both from the town and from himself. Ward still feels guilty for his sister's accident. He pours himself out into his job, it takes up most of his time since he doesn't have any deputies.
I was happy to be revisiting Turnabout, and that Hazel and Ward finally get their own story. Meg is a charming child who brings out the best things in both Ward and Hazel. Both our heroes are stubborn, and sometimes that holds them back, but it falls in place eventually. I liked seeing some of the familiar faces in Turnabout. And I liked how Hazel is a woman of faith and action. Great interaction and an engaging story throughout with high stakes and even a mystery! Highly enjoyable read!
Disclosure of Material Connection: I received one or more of the products or services mentioned above for free in the hope that I would mention it on my blog. Regardless, I only recommend products or services I use personally and believe will be good for my readers. I am disclosing this in accordance with the Federal Trade Commission's 16 CFR, Part 255: "Guides Concerning the Use of Endorsements and testimonials in Advertising."