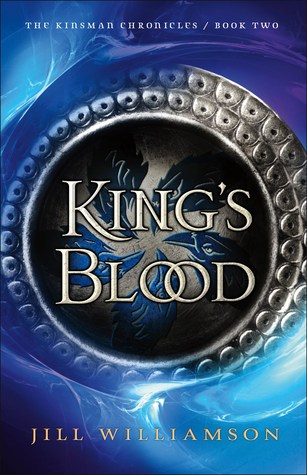 My Review:
Picking up right where the last book left off, the five kingdoms are now at sea in search of their new home. Sar Wilek struggles to unite his people in a more and more polarizing community, where many worship pagan gods and spirits. Trevn and Mielle must fight for their love, while Wilek finds hope in loving again. Charlon is even more desperate than ever before to mother a royal child in order to place her claim on the throne. Kal struggles with the nightmares of his past, while Hinck and Grayson spy in the treacherous dens of evil in hopes of bringing light to their kingdom.
Since it had been a year since I had read the last book, it took some time for me to remember again who everyone was, which was a bit hard at first as it jumped from the perspective of one character to another. But once I was all caught up on everyone it was hard to put down. I really liked how much Wilek has grown and matured in this book, he sees things more clearly and is becoming the leader he was born to be.
There is definitely a lot going on, and so many characters to keep track of, plenty of action, and lots of great growth of character. I think my favorite characters to read about in this book were Grayson, Hinck, and Kal. Grayson is brave, adventurous and daring. He wants very much to be of help to the Armanians, as well as be true to his upbringing. Hinck is a good spy, though seemingly a pawn in a bigger game, his wheels are always spinning, and he is loyal to his friends. Kal is Wilek's ever faithful shield who is keeping secrets that have haunted him from the war, he is a man of honor and strength to the very core of his being.
There is deceit and treachery at every corner, and conspiracies abound for control of the throne. There is so much that happens throughout the book, it is a thoroughly engrossing read. I think that Charlon's passages are some of the best in the book, because whilst she is against Wilek and Trevn and everything they stand for, yet her story is compelling and well done. There is so much that happens in the book, that it is impossible to even generalize much of the plot.This is a great read for fans of fantasy, though you definitely need to read the books of the series in order. Highly recommend, but for adult readers because of adult themes in the book.
Disclosure of Material Connection: I received one or more of the products or services mentioned above for free in the hope that I would mention it on my blog. Regardless, I only recommend products or services I use personally and believe will be good for my readers. I am disclosing this in accordance with the Federal Trade Commission's 16 CFR, Part 255: "Guides Concerning the Use of Endorsements and testimonials in Advertising."