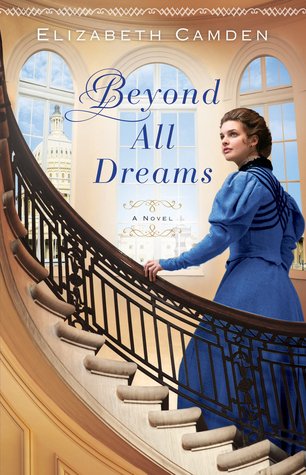 My Review:
Riveting, page-turning romance!
Anna O'Brien treasures her job in the Library of Congress as a map librarian. She, along with her good friend, Neville, have been searching for answers to her father's mysterious shipwreck for years, the answers that they are being given just don't add up when combined with the oddly worded letters that her father had sent her.
Luke Callahan is a passionate congressman, with a love for words, knowledge, and a respect for dreams. Honest to the point of being a bit shocking at times, Luke can't help but notice the fiery librarian who dares to take him down a peg.
As their two worlds intertwine, will they find in each other the ally that they have been looking for all their lives?
I do declare, Ms. Camden just get's better with every book. I'll admit that I did hold off on starting this one because I knew that once I did, that I wouldn't be able to put it down!
Fantastic book from beginning to end, I loved the characters and their interaction with each other. Anna captured my heart right from the start with her love of maps and books, as well as her not being afraid to stand up for what she believes in. Luke is a firecracker, and at times he misfires, but with a plan and end goal in mind, it's hard no to sit back and just watch him shine!
I loved the mystery and intrigue along with the exciting fast-paced setting of Washington D.C. and the world of politics. I absolutely LOVED the setting of the Library of Congress and I learned so much along the way!
Overall, and utterly fantastic read! I loved everything from beginning to end, and I loved how it dealt with the changing of life and friendships that we all experience from time to time. Excellent characters, who were raw, vulnerable, yet heroes and heroines that I could cheer for the entire time. Ms. Camden has a way of making me fall in love with all of her characters! Highly recommend, already one of my favorites of the year!
Disclosure of Material Connection: I received one or more of the products or services mentioned above for free in the hope that I would mention it on my blog. Regardless, I only recommend products or services I use personally and believe will be good for my readers. I am disclosing this in accordance with the Federal Trade Commission's 16 CFR, Part 255: "Guides Concerning the Use of Endorsements and testimonials in Advertising."