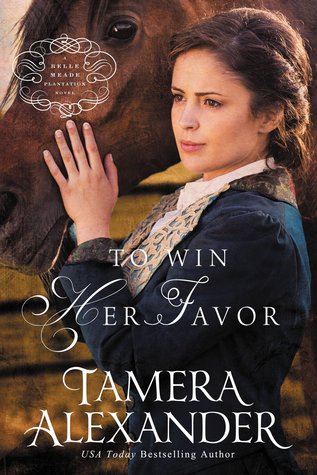 Lucie's Review:
Maggie Linden is determined to make her horse a champion, but the one man who can make that dream a reality has vowed to stay away from racing forever.
Cullen McGrath is a man hoping to make a fresh stop in America, but is finding that it is difficult to find someone that will sell to an Irishman.
Maggie's father is dying and wants to provide for his daughter and see her taken care o in his absence, so he makes a deal to sell his land to Cullen for the cost of the back taxes if he will marry Maggie.
Maggie says that she will consider the plan, little did she know that the preacher would show up the next day...
I loved Cullen immediately, and how he quickly bonded with Mr. Linden. I admired his interest and willingness to learn.
Maggie is a passionate about her horse, Bourbon Belle, she is a natural horsewoman, so in tune with her mount that they seem to fly. But she isn't the owner of Belle anymore, Cullen is, which causes some problems.
I loved seeing some familiar faces like, Uncle Bob. I liked the interaction between Maggie and Cullen as their friendship slowly grew. This was an interesting book in that it explored realistically the challenges that many Southern families faced after the war.
Overall, this was a good book, but not my favorite from the author, I felt it was longer than it had to be and focused more on the physical things than any other aspects of the relationship. It was a well written read, filled with complex characters and a good plot. Definitely great for fans of Civil Was Era history and romance.
Disclosure of Material Connection: I received one or more of the products or services mentioned above for free in the hope that I would mention it on my blog. Regardless, I only recommend products or services I use personally and believe will be good for my readers. I am disclosing this in accordance with the Federal Trade Commission's 16 CFR, Part 255: "Guides Concerning the Use of Endorsements and testimonials in Advertising."
About the book:
To Win Her Favor (Zondervan, May 2015)

A gifted rider in a world where ladies never race, Maggie Linden is determined that her horse will become a champion. But the one man who could help her has vowed to stay away from thoroughbred racing forever.

An Irishman far from home, Cullen McGrath left a once prosperous life in England because of a horse racing scandal that nearly ruined him. He's come to Nashville for a fresh start, hoping to buy land and begin farming, all while determined to stay as far away from thoroughbred racing as possible. But starting over proves harder than he'd wagered, especially when Maggie Linden's father makes him an offer he shouldn't accept yet cannot possibly refuse.

Maggie is certain that her mare, Bourbon Belle, can take the top purse in the inaugural Peyton Stakes, the richest race ever run in America. Maggie only needs the chance to prove it. To give her that chance---and to save Linden Downs from being sold to the highest bidder---Maggie's father, aging, yet wily as ever, makes a barter. His agreement includes one tiny, troublesome detail---Maggie must marry a man she's never met. A man she never would have chosen for herself.
About the author:

Tamera Alexander is a best-selling novelist whose deeply drawn characters, thought-provoking plots, and poignant prose resonate with readers. Having lived in Colorado for seventeen years, she and her husband now make their home in Nashville, Tennessee, along with their two adult children who live near by. And don't forget Jack, their precious---and precocious---silky terrier.