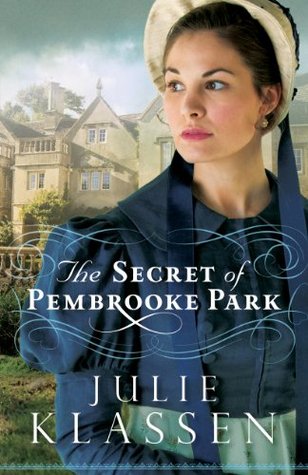 Lucie's Review:
I loved every moment of this book! From beginning to end I was engaged.
Abigail Foster is a practical young woman, who loves her family. So when they fall on hard times she offers up her dowry and her chance at finding a husband so that her sister can take her season and her family can survive. But still they must sell their home.
But them they are given an offer that they cannot refuse from a generous and anonymous benefactor, who wants to lease Pembrooke Park to them at a reduced rate, and in return they will fix it up.
Not only that, but Abigail begins to receive mysterious letters, along with pages from a diary from the past.
Will Abigail uncover the mystery and find out the true reason that they have been invited to Pembrooke Park?
A spellbinding read that I couldn't put down. Filled with mystery, in a detailed setting filled with many wonderful characters. I really liked Mac Chapman, the caretaker of Pembrooke and how even though he has a gruff exterior, he has a heart of gold. His son is a passionate young preacher who truly cares for his congregation and makes his sermons easy to comprehend.
I loved how this book came together, with all the pieces coming together, I especially liked how Abigail grew in her faith through it all. I loved how Abigail was a relatable character, and she struggled with jealously of her beautiful magnetic sister.
Overall, a wonderful read that I was loathe to put down. I loved the friendship between William and Abigail, and how their dialogue brought them closer together. There were so many pieces and I loved how it all came together in the end. Amazing read!
Disclosure of Material Connection: I received one or more of the products or services mentioned above for free in the hope that I would mention it on my blog. Regardless, I only recommend products or services I use personally and believe will be good for my readers. I am disclosing this in accordance with the Federal Trade Commission's 16 CFR, Part 255: "Guides Concerning the Use of Endorsements and testimonials in Advertising."