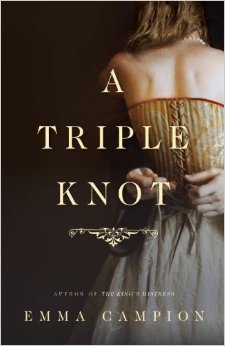 My Review:
A Triple Knot
tells of the plight of Fair Joan of Kent, a naive young woman in the French Court. Joan is haunted by nightmares of her father's execution, and with great beauty comes a burden. Joan is pursued by men of all ranks, and her hand in marriage is promised to a man who with whom the king seeks to make an alliance, yet her heart is promised to only one.
I find myself fascinated with the lives of royals of the past, probably most notably, the Tudors, with that said, I must say that it was quite different diving into French history as I am not as familiar with their history and backgrounds. So perhaps that was the reason I found myself simply not connecting to that characters, which in turn made this a rather difficult read for me. I just didn't find myself wanting to read more, which is unusual for a book like this.
There is an extensive cast of characters, and good sense of history and detail. Honestly, this book just wasn't for me, and I cannot honestly recommend it. Thank you.
I received this book from the publisher in exchange for an honest review.