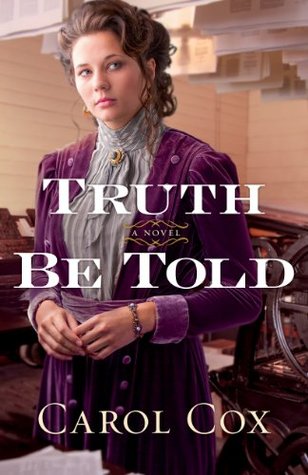 My Review:
Amelia Wagner returns to her hometown to find her father dying of cancer. After her father's death it is up to her to carry on his legacy of letting the truth be told through the newspaper that her father left her. While looking for a newsworthy story, Amelia discovers her father's research into what appears to be suspicious dealing involving a prominent business that is buying up random properties.
Ben Stone is an employee of Great Western, running from his calling he wants to make a living working for Great Western. But when Amelia comes poking around, he finds himself questioning everything he thought the company stood for, as well as making him think about the past he left behind.
An engaging tale from the early days of Arizona, filled with wonderful characters that will make you want to stay in Arizona for a while longer. Brimming with western adventure and wonderful side characters, one of my favorites being Jimmy, who always put a smile on my face.
I loved how important the truth and integrity were for Amelia and her father, and throughout the story there were themes of redemption and obedience, with comparisons to Jonah of the Bible.
Overall, this was a fantastic read, with wonderful characters that had me cheering for them all the way through. I loved Amelia and Ben's dedication to truth no matter what the cost. An entertaining read, with a good old fashion western mystery, and heroes that make you want to cheer for them all the way through, along with lessons of faith and the value of the truth. Loved it!
Disclosure of Material Connection: I received one or more of the products or services mentioned above for free in the hope that I would mention it on my blog. Regardless, I only recommend products or services I use personally and believe will be good for my readers. I am disclosing this in accordance with the Federal Trade Commission's 16 CFR, Part 255: "Guides Concerning the Use of Endorsements and testimonials in Advertising."