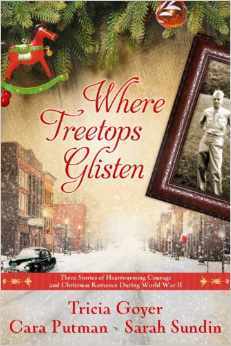 Lucie's Review:
Three heartwarming celebrations of Christmas time full of faith, family, and hope in the midst of hard times.
Each of the three stories covered consecutive Christmases in the Turner family each focusing on a different sibling, one of my favorite characters had to be Grandmother Louise Turner, who brought faith and humor to the stories. The parents were also fantastic, and so supportive of their children.
In
White Christmas
Abigail and her family reach out to Jackson, and help him solve a mystery, bringing them close together. I loved the close bond between Abigail and her father.
I'll be Home for Christmas
sees Pete Turner returning from active duty feeling empty inside. He meets Linnie, a young girl, whose uncle was a childhood friend of his, and as he bonds with her he finds himself falling for her mother, Grace.
Have Yourself a Merry Little Christmas
with this poignant tale of love, loss, and trusting God. Merry is the youngest of the Turner clan, working as a nurse.She doesn't know what to think when David, the man she met in Miami Beach, leaves suddenly after Pearl Harbor, and fears that he may be fighting for the enemy.
Overall, just an amazing collection of great stories, I loved them all so much. And I loved getting ready for and experiencing Christmas with the Turner family. A book I would definitely recommend!
Disclosure of Material Connection: I received one or more of the products or services mentioned above for free in the hope that I would mention it on my blog. Regardless, I only recommend products or services I use personally and believe will be good for my readers. I am disclosing this in accordance with the Federal Trade Commission's 16 CFR, Part 255: "Guides Concerning the Use of Endorsements and testimonials in Advertising."
The crunch of newly fallen snow, the weight of wartime

Siblings forging new paths and finding love in three stories, filled with the wonder of Christmas

Turn back the clock to a different time, listen to Bing Crosby sing of sleigh bells in the snow, as the realities of America's involvement in the Second World War change the lives of the Turner family in Lafayette, Indiana.

In Cara Putman's White Christmas, Abigail Turner is holding down the Home Front as a college student and a part-time employee at a one-of-a-kind candy shop. Loss of a beau to the war has Abigail skittish about romantic entanglements---until a hard-working young man with a serious problem needs her help.

Abigail's brother Pete is a fighter pilot hero returned from the European Theater in Sarah Sundin's I'll Be Home for Christmas,trying to recapture the hope and peace his time at war has eroded. But when he encounters a precocious little girl in need of Pete's friendship, can he convince her widowed mother that he's no longer the bully she once knew?

In Tricia Goyer's Have Yourself a Merry Little Christmas, Meredith Turner, "Merry" to those who know her best, is using her skills as a combat nurse on the frontline in the Netherlands. Halfway around the world from home, Merry never expects to face her deepest betrayal head on, but that's precisely what God has in mind to redeem her broken heart.

The Turner family believes in God's providence during such a tumultuous time. Can they absorb the miracle of Christ's birth and His plan for a future?
About the authors:
TRICIA GOYER is a prolific author of nearly forty books, including Chasing Mona Lisa, and a speaker and blogger.
CARA PUTMAN is the author of twenty books includingShadowed by Grace. She is the winner of the 2008 Carol Award for historical fiction.
SARAH SUNDIN is the critically-acclaimed author of the Wings of the Nightingale series, the Wings of Glory series, and the forthcoming Waves of Freedom novels.