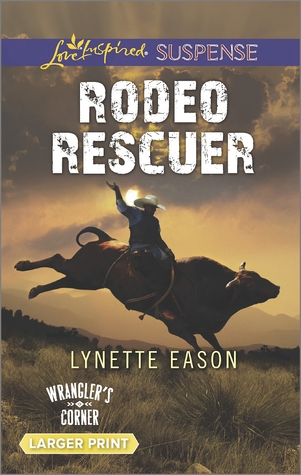 Lucie's Review:
Lynette Eason, rodeos, and mystery, what more could I ask for?
When Seth finds a strange man in the storage room, he kicks him out, inadvertently saving Tonya, the rodeo clown from her ex-boyfriend that she has been on the run from for some time.
When Tonya tells him what's going on, Seth becomes determined to help her in any way that he can.
Will they be able to put a stop to harassment?
Seth is a good man who, wants to do everything in his power to help Tonya catch her stalker, so she won't have to run anymore. I loved how his family welcome Tonya with open arms.
Tonya is a strong woman, who loves her job protecting the cowboys, but she can't help but think that she might be better off leaving everyone alone, so that nobody will get hurt.
Overall, a terrific read with amazing dialogue, and fresh and interesting premise and setting. I loved the support and love they had from family and friends, and how the relationship progressed naturally. A fast paced book full of wonderful twists that had be guessing.
Disclosure of Material Connection: I received one or more of the products or services mentioned above for free in the hope that I would mention it on my blog. Regardless, I only recommend products or services I use personally and believe will be good for my readers. I am disclosing this in accordance with the Federal Trade Commission's 16 CFR, Part 255: "Guides Concerning the Use of Endorsements and testimonials in Advertising."