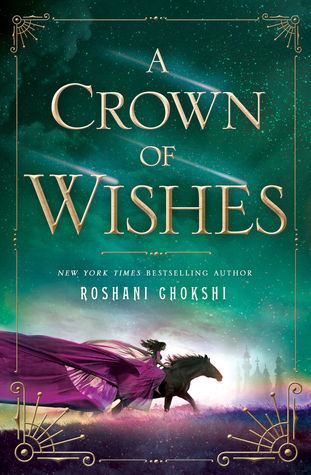 My Review:
Vikram, The Fox Prince, is a prince in name but not in power. Adopted by the Emperor of Ujijain when he was a small boy, the counsel does not see him as worthy of the throne. He wishes to rule Ujijain. Vikram receives a magical invitation to the Tournament of Wishes, a contest that promises to grant the winner their heart's desire. But in order to play, he needs a partner.
Princess Gauri, Jewel of Bharata, wishes to overthrow her tyrant of a brother and lay claim to the throne. She has been exiled and imprisoned, forced to betray her best friend. Her brother sends her to Ujijain to be executed by Prince Vikram as a show of loyalty to Gauri's brother, Skanda of Bharata. But her escape comes unexpectedly when Prince Vikram invites her to be his partner in the Other Realm's Tournament of Wishes.
Will they find what their hearts desire within Alaka's gates?
Vikram is a clever thinker, he is good at coming up with fair solutions, and his wits are his weapon. He is cool and collected in the face of danger, and a patient scholar. I really admired his inquisitive mind, wisdom, and sense of adventure.
Gauri is calculated, yet anxious, she has been raised as a warrior to trust no one. Her heart hurts for the pain that her brother Skanda has caused his subjects, but she wonders if her patience is another form of cowardice. She is quick thinking and always ready to fight. On the outside she appears hard and seamless, but I like how her friendship with Nalini showed her softer side as well as her growing friendship with Vikram.
Aasha is an other-worldly creature, she and her Vishakanya sisters feed on the desires of others but their touch is toxic. Aasha longs for the world beyond the Other Realm, she has questions about taste, touch, and the human world. She befriends Vikram and Guari, helping them navigate Alaka in return for information about the human world. Though a century old, she is youthful and brimming with questions and longing, she is a faithful friend, honest and true.
I was initially drawn to this book because I have read very little about Indian folklore and was intrigued by how their culture was expressed in their stories. It was interesting to see how different themes were played up compared to our western fairy tales, and I was completely enchanted by this spellbinding adventure of love, courage, desire, hope, vengeance, and forgiveness.
Vikram and Gauri are opposites, yet unknowingly the perfect complement to each other. Sparks fly, and there is great chemistry between them. I like how their grudging partnership warms to friendship as they face the trials of fear and love. Full of twists, humor, adventure, all with an Indian flare, it is an enchanting tale of desire and destiny. Highly recommend for fans of folklore and fantasy.
Disclosure of Material Connection: I received one or more of the products or services mentioned above for free in the hope that I would mention it on my blog. Regardless, I only recommend products or services I use personally and believe will be good for my readers. I am disclosing this in accordance with the Federal Trade Commission's 16 CFR, Part 255: "Guides Concerning the Use of Endorsements and testimonials in Advertising."