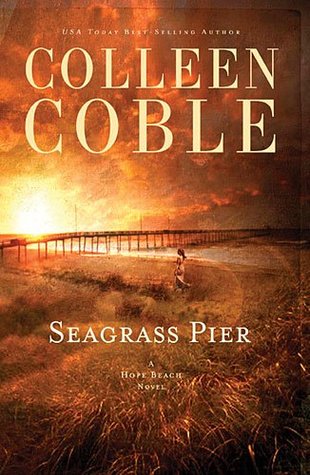 Lucie's Review:
An intense suspense story, that quickly drew me into the story, revealing a little at a time, layer by layer of mystery and intermingled story lines.
Marc is an FBI agent investigating the mysterious death of a woman. Elin was the recipient of the woman's heart and can't seem to shake the nightmares she has about the woman's death. Strange things are happening to Elin, yet nobody believes her. Marc used to know Elin many years ago, but when he shows up unexpectedly on her doorstep, he discovers something that he never bargained for...
This book is a great addition to the Hope Beach Series, including many familiar faces from the previous books yet standing securely on its own. There are many diverse characters each adding to the depth of the story.
This book is very fast paced, with plenty of action and mystery. It is a bit graphic in violence with some mature themes, so I would give a small warning. But this book also has strong heroes, who refuse to cower in fear.
Overall, this was a fantastic book that had me glued to the page. the plot was riveting and thrilling. taunt with suspense and great character interaction and dialogue. A heart pounding book that you won't want to miss!
Disclosure of Material Connection: I received one or more of the products or services mentioned above for free in the hope that I would mention it on my blog. Regardless, I only recommend products or services I use personally and believe will be good for my readers. I am disclosing this in accordance with the Federal Trade Commission's 16 CFR, Part 255: "Guides Concerning the Use of Endorsements and testimonials in Advertising.
"
About the book:
In a secluded corner of Hope Beach, one woman must decipher a stranger's memories . . . before they cost her everything.
Elin Summerall was one of the lucky ones. Not only did she get a heart transplant, but the donor was a perfect fit. A miraculously perfect fit.
But when Elin begins having violent flashbacks---and vivid dreams of being strangled---she realizes that she has been the recipient of more than just a new heart . . . Elin is remembering her donor's murder.
Her strange affliction has attracted some unwanted attention: from the press, from the authorities . . . and from the killer himself. Now, living alone with her young daughter and aging mother, Elin is being stalked---by a man she's only met in her nightmares.
The police are dubious of her story, but one off-duty FBI agent is eager to help her: Agent Marc Everton, the father of Elin's daughter.
Of course, he doesn't know about that. Yet.
Now, in a remote cottage on Hope Island, Elin and Marc must probe the secrets buried in her borrowed heart. And there's no time to waste. One man is desperate to silence her---before she remembers too much.
About the author:
Colleen Coble has sold over 2 million novels worldwide. Seagrass Pier, the third installment in her acclaimed Hope Beach series, marks a new highpoint for emotion and complexity in Coble's addictive brand of romantic suspense.
Don't miss Colleen Coble's latest release in the Hope Beach series, Seagrass Pier.
The book releases July 1st, and Colleen's publisher is offering the ebook at a
special pre-order price of just $4.99
between now and 6/30 everywhere ebooks are sold.
PLUS . . . between 6/9 – 6/30 Colleen will be hosting a Kindle giveaway.
One winner will receive:
A brand new Kindle Fire HDX
Seagrass Pier and the rest of the Hope Beach series by Colleen Coble
Enter today by clicking one of the icons below
. But hurry, the giveaway ends on June 30th. Winner will be announced on
Colleen's blog
on July 1st.
Tell your friends via FACEBOOK or TWITTER and increase your chances of winning and be sure to stop by Colleen's blog on July 1st to see if you won!