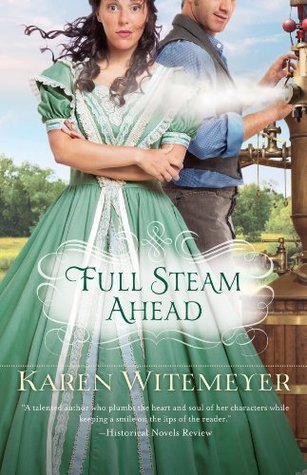 Lucie's Review:
Nicole Renard is appalled at how weak her father has become since the last time she saw him, his illness makes itself even more apparent when the Jenkins Brothers raid them in the night looking for the famed Lafitte Dagger. After narrowly fighting off the Jenkins, Nicole's father decides that they can't keep going the way they have been, and sends Nicole to New Orleans to find the next best thing to a son—a son-in-law.
But Nicole's plans are derailed when she finds that the Jenkins have followed her, and are awaiting her arrival, so she takes a detour and finds herself in Liberty, Texas with only pennies to her name. So after scouting out the town for a job, she finds the only opening is for a secretary to a Mr. Thornton.
Darius Thornton is dismissive of Nicole, and her abilities, but she proves him wrong when she finds an error in his calculations that leaves him flabbergasted, and so the adventure begins!
I loved everything about his book, the plot, the pace, and the peek into steamboat history. The character were fantastic, Nicole was witty and determined, not easy cowed and willing to the see the man beneath Darius' rough exterior.
The dialogue flowed naturally with plenty of give and take, and while there were the occasional miscommunications and obstacles, they persevered with compassion, faith, and a healthy dose of humor.
Darius' transformation and journey was probably one of my favorite things about this book, added that special kind of Beauty and the Beast touch to this already completely delightful tale.
Overall, this book completely blew me away, and I loved every second of it! I would definitely recommend to anyone looking for a fantastic read. It has it all, a great hook, great interaction, colorful characters, as well as humor, and a hero and heroine well worth cheering for. Highly recommend!
Disclosure of Material Connection: I received one or more of the products or services mentioned above for free in the hope that I would mention it on my blog. Regardless, I only recommend products or services I use personally and believe will be good for my readers. I am disclosing this in accordance with the Federal Trade Commission's 16 CFR, Part 255: "Guides Concerning the Use of Endorsements and testimonials in Advertising."