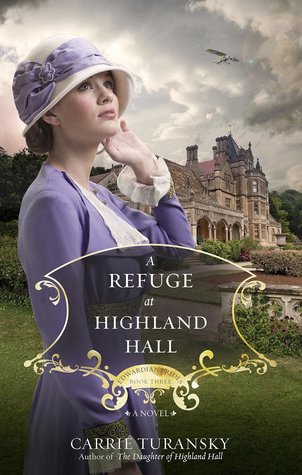 My Review:
Penny Ramsey is a great help to her sister Kate, who is pregnant with her first child, and also foster mother along with her husband Jon to eight somewhat rambunctious children. But with the outbreak of war, the men are being called away to serve their country, and for safety the family returns to Highland Hall, the home of William and Julia.
When Jon brings his pilot friend Alex Goodwin home for a visit, Penny befriends him and they begin a correspondence.
In the midst of the tragedy of war, will Penny be able to help Alex regain his hope?
I love how compassionate and supportive Penny is of her family, taking on the large responsibility of helping Kate and her husband care for their eight adopted children. I loved how she welcomed Alex, and quickly befriended him, encouraging him in dark times, and never once shying away from being a true friend to those that mattered most to her.
Julia and William are raising Donald and Millie, but long for a child born of their shared love, but after many heartbreaks they struggle to hope.
Alex is a brave young man, who values life and fights to protect the ones that he loves. He is courageous and gutsy in the face of danger, he took pride in his responsibility.
A wonderful conclusion to a great series, it's sad to know this is the last one as I enjoyed getting to know so many of the Foster/Ramsey family, but it was good to catch up with them again in this book.
This is a terrific read with admirable characters, of substance and courage. Filled with action and faith, this is a book that makes you want to cheer for Alex and Penny. I definitely recommend the whole series!
Disclosure of Material Connection: I received one or more of the products or services mentioned above for free in the hope that I would mention it on my blog. Regardless, I only recommend products or services I use personally and believe will be good for my readers. I am disclosing this in accordance with the Federal Trade Commission's 16 CFR, Part 255: "Guides Concerning the Use of Endorsements and testimonials in Advertising."