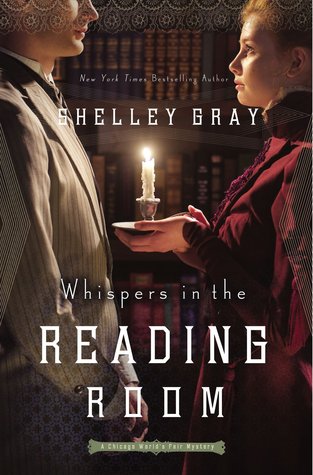 Lucie's Review:
Lydia Bancroft finds her escape through her job as librarian, there she can forget about the daunting details of her life. After her father's death, her mother has been trying to wrangle her into marrying a rich man, who is not the kindest of men.
Sebastian Marks is a self made many who educated himself by reading every book he could get his hands on, he's had to make his own way from a young age, and now does well for himself running The Silver Grotto, a gambling den. He doesn't have a library card, but he comes to the library often, reading for a time then going about his way.
Lydia and Sebastian become unlikely friends, neither of them having ever truly had a friend before.
This is an interesting read with a lot of promise, but unfortunately I personally wasn't a fan of the bad language, drinking, gambling, and adult themes. Sebastian isn't a hero to be admired in my eyes, he doesn't seem to ever see that what he does isn't fair business, and Lydia doesn't seem to mind what his money can do for her until later on. I didn't feel that the characters grew very much as people and that most of their relationship seemed to be kind of inferred, and not shown through direct interactions, like it was mostly developed through thoughts in their heads.
One of the things I liked best about this book was Bridget and Vincent, and how they met and get to know each other.
Overall, a difficult review to write, because I really thought that I would like this book, as I have enjoyed other books by this author in the past, and I really wanted to hold out some hope and love it in the end. But I just didn't feel like I could ever really support the characters or appreciate the choices that they made. The writing style was engaging and swift, with great tension.
Disclosure of Material Connection: I received one or more of the products or services mentioned above for free in the hope that I would mention it on my blog. Regardless, I only recommend products or services I use personally and believe will be good for my readers. I am disclosing this in accordance with the Federal Trade Commission's 16 CFR, Part 255: "Guides Concerning the Use of Endorsements and testimonials in Advertising."
About the book:


Whispers

in the

Reading

Room (Zondervan, November 2015)

Lydia's job at the library is her world---until a mysterious patron catches her eye . . . and perhaps her heart.

Just months after the closure of the Chicago World's Fair, librarian Lydia Bancroft finds herself fascinated by a mysterious dark-haired and dark-eyed patron. He has never given her his name; he actually never speaks to a single person. All she knows about him is that he loves books as much as she does.

Only when he rescues her in the lobby of the Hartman Hotel does she discover that his name is Sebastian Marks. She also discovers that he lives at the top of the prestigious hotel and that most everyone in Chicago is intrigued by him.

Lydia and Sebastian form a fragile friendship, but when she discovers that Mr. Marks isn't merely a very wealthy gentleman, but also the proprietor of an infamous saloon and gambling club, she is shocked.

Lydia insists on visiting the club one fateful night and suddenly is a suspect to a murder. She must determine who she can trust, who is innocent, and if Sebastian Marks-the man so many people fear-is actually everything her heart believes him to be.
About the author:


Shelley Gray is the author of The Heart of a Hero series. Her Amish novel (written as Shelley Shepard Gray), The Protector, recently made the New York Times best seller list. A native of Texas, she earned her bachelor's and master's degrees in Colorado and taught school for ten years. She and her husband have two children and live in Southern Ohio.

Connect with Shelley: website, Twitter, Facebook