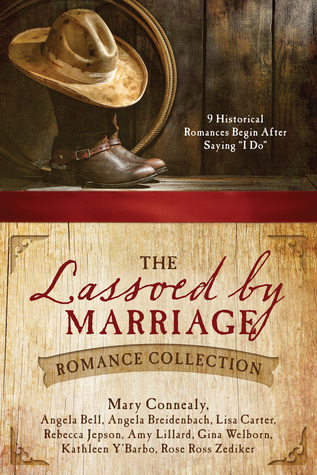 Lucie's Review:
Fun, fast-paced, and exciting, this is a terrific collection that I enjoyed every minute of!
The Substitute Bride
is a poignant read, about Gwen Bradbury, who has always felt like an ugly ducking next to her sister, so she agrees to her mother's scheme to marry her to Lord Carlyle, instead of her pretty sister. Lord Carlyle doesn't find out about the switch until after the wedding, so he is understandably upset, so he leaves her alone at his estate, where she spends much of her time reading. But when a tree crashes into the library, they find themselves working together to save the books, and finally getting to know their spouse.
It was a fantastic story of Gwen and Carlyle, as they get to know each other, and Gwen begins to see herself as Carlyle begins to view her. I loved Gwen, and her personal journey throughout the course of this book.
Hattie and the Sheriff of Hitching Post, MT end up spending more time than they expected together when they find themselves lock together in a jail cell, in
Mule Dazed.
Plenty of humor, and surprises in this delightful read.
In
The Sweetwater Bride
Tanner Harden discovers the secret valley that Debba McClain has made her home since her father's death. She has gentled all the animals including the long horn bull. Tanner takes her home to his parents, and the bull follows them. A fun read, with great characters.
I liked the strong heroines, like in
Bridal Whispers, A Highbrow Hoodwink,
and
Not So Pretty Penny
, they are brave and sacrifice a lot, taking chances and trusting God.
And the men are pretty brave too, stepping up to help a lady in need of a little help, in stories like
The Colorado Coincidence,
and
Railroaded into Love.
Through everything Molly held fast to her faith, and becomes the perfect partner for Noah's ministry.
Two sides of a feuding clans find love in
All's Fair.
When a Davies and Kent get in a fight and face jail time unless the two families are joined by marriage, Jackson volunteers to marry Coral. And she is set on keeping her vows.
Overall, a well done, fantastic collection, with everything you could hope for in a western romance pretty much covered. Definitely recommend!
Disclosure of Material Connection: I received one or more of the products or services mentioned above for free in the hope that I would mention it on my blog. Regardless, I only recommend products or services I use personally and believe will be good for my readers. I am disclosing this in accordance with the Federal Trade Commission's 16 CFR, Part 255: "Guides Concerning the Use of Endorsements and testimonials in Advertising."