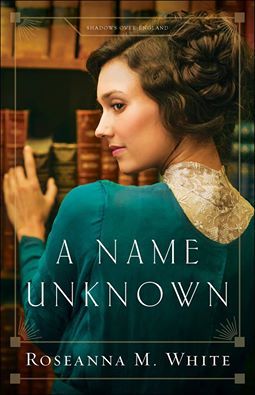 Lucie's Review:
With a war on the horizon lives are about to change and Peter Holstein needs to prove his citizenship to England before the imminent war with Germany. Peter loves books as did his father and grandfather, they also never threw anything away, so in order to prove his citizenship he must find the documentation among his library, so he hires Rosemary Gresham to help put his library in order.
Rosemary takes the job after ever previous applicant turned down the job after they see the task at hand, but what Peter doesn't know is that Rosemary was hired to steal the information proving that Peter has allegiance to Germany.
But as Rosemary works alongside Peter she sees his kind and generous nature, can she help him prove that he is more than his name?
Rosemary is initially overwhelmed by her job, but is smart and comes up with a logical way to catalog Peter's belongings. She grew up with a band of orphans stealing to get by, and she's gotten good at it. But as she get's to know Peter and sees his kindness, she questions whether she will be able to continue working against him.
Peter does have a secret, but it's not the one that everyone thinks. He is clever, and has a kind heart, he even get's around his stuttering by writing letters to Rosemary. He admires Rosemary's quick mind and insight. Though he stutters and repeats himself, he is often able to convey so much with just a single word. His dry wit and Rosemary's habit of saying exactly what she's thinking makes for some great dialogue, and made me love Peter and Rosemary.
I like how Peter challenges Rosemary to rethink her plan, and how she get's to know him for who he is a man loyal to his country. Rosemary and Peter are people who come from very different backgrounds and I love how it brings them together, and how they complement and make challenge each other. This was a fantastic read, I loved the characters, though it was slow to start for me. I love how Rosemary and Peter find logical ways to organize generations worth of clutter, while they also get to know each other. A great start to a new series!
Disclosure of Material Connection: I received one or more of the products or services mentioned above for free in the hope that I would mention it on my blog. Regardless, I only recommend products or services I use personally and believe will be good for my readers. I am disclosing this in accordance with the Federal Trade Commission's 16 CFR, Part 255: "Guides Concerning the Use of Endorsements and testimonials in Advertising."
She's out to steal his name. Will he steal her heart instead?
Rosemary Gresham has no family beyond the band of former urchins that helped her survive as a girl in the mean streets of London. Grown now, they are no longer pickpockets-now they focus on high value items and have learned how to blend into upper-class society. Rosemary's challenge of a lifetime comes when she's assigned to determine whether a certain wealthy gentleman is loyal to Britain or to Germany. How does one steal a family's history, their very name?
Rumors swirl around Peter Holstein. Awkward and solitary, but with access to the king, many fear his influence. But Peter can't help his German last name and wants to prove his loyalty to the crown-so he can go back to anonymously writing a series of popular adventure novels. When Rosemary arrives on his doorstop pretending to be a well- credentialed historian, Peter believes she's the right person to help him dig through his family's past.
Anger and danger continue to mount, though, and both realize they're in a race against time to discover the truth-about Peter's past and about the undeniable attraction kindling between them.
Roseanna M. White pens her novels beneath her Betsy Ross flag, with her Jane Austen action figure watching over her. When not writing fiction, she's homeschooling her two children, editing and designing, and pretending her house will clean itself. Roseanna is the author of over a dozen historical novels and novellas, ranging from biblical fiction to American-set romances to her British series. Spies and war and mayhem always seem to make their way into her novels . . . to offset her real life, which is blessedly boring. She passes said boring life with her husband and kids in the beautiful mountains of eastern West Virginia.