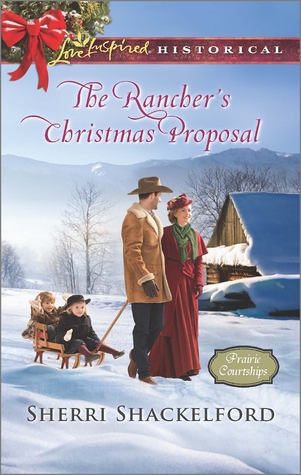 Lucie's Review:
After visiting a tent revival meeting, Tessa has turned her life around, and that means that she is no longer willing to help her scheming father with his dishonest activities. Dead-eye Dan and his men don't know that she isn't working with her father anymore, and so when they come looking for her, she knows that she has to get out of town fast!
When Tessa meets Shane in town she is impressed by what a good father he is to his young twins. Shane tries to help Tessa, by offering to let her come with his family to Cimarron Springs, he likes how good she is with Alice and Owen, so when Tessa suggests that they marry, he offers her a partnership instead.
Will he change his mind about marrying Tessa, in time for a real Christmas Proposal?
Tessa is open-minded and willing to learn new things, she quickly befriends Shane's cowhands, and trades recipes with the cook. She even buys a book on household management, and attempts to follow it.
Shane and Tessa don't have a lot of interaction because, Shane is a respectful guy and in his thinking he was being a good guy and keeping a distance.
This is a sweet romance, that goes out with a bang, you'll definitely want to stick around for the ending because everything comes together, and it's nearly impossible to put down.
Disclosure of Material Connection: I received one or more of the products or services mentioned above for free in the hope that I would mention it on my blog. Regardless, I only recommend products or services I use personally and believe will be good for my readers. I am disclosing this in accordance with the Federal Trade Commission's 16 CFR, Part 255: "Guides Concerning the Use of Endorsements and testimonials in Advertising."