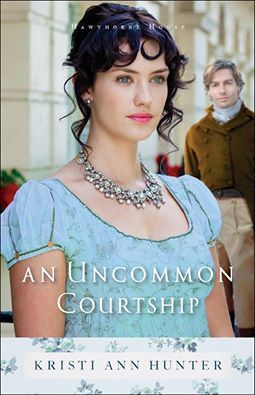 Lucie's Review:
Trent Hawthorne follows through on his promise to marry the girl with whom he was trapped in a cellar, even though he doesn't know her. After the wedding he rushes them to his London home, but is rarely ever there. When Trent's brother, Griffith suggests that Trent should court his new wife, Trent decides to take more of an interest in his new bride.
Adelade is used to being ignored as the second daughter of Lady Crampton, always in the shadow of her beautiful sister, Helena. Adelade loves to read and knows many facts that others would never think to learn, but she knows little about playing the games of society, and social graces.
I love how Trent's mother comes to visit Adelade, and get to know her new daughter-in-law, willingly teaching her how to move about in London society. Adelade is kind and genuine, quickly making friends among Trent's household and among her new peers.
I think my favorite part was watching Trent come to admire and respect Adelade, from trying his best to avoid her to anticipating her company. I liked his respect for marriage, and his willingness to try to get to know Adelade, and his protectiveness over her. Griffith is a good brother and friend, and though he has good ideas, he doesn't know much about courting a woman either, as he is unmarried.
I was so happy to see Trent get his own story, and I like how he grows over the course of unexpected events. This is a well written read, and I loved the interaction between Adelade and Trent as they discover their new life together. I really liked Griffith, and hope that I get to read his story soon!
Disclosure of Material Connection: I received one or more of the products or services mentioned above for free in the hope that I would mention it on my blog. Regardless, I only recommend products or services I use personally and believe will be good for my readers. I am disclosing this in accordance with the Federal Trade Commission's 16 CFR, Part 255: "Guides Concerning the Use of Endorsements and testimonials in Advertising."