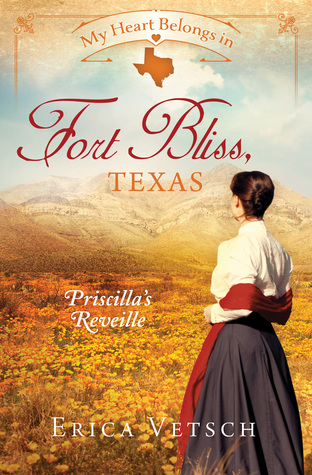 Lucie's Review:
Priscilla is travelling to Fort Bliss to take care of her niece and nephew, whose parents have recently died. She plans to take them back to Cincinnati with her, where she has a job, creating artwork for a ladies' catalog, she wasn't counting on meeting their uncle.
Elliot Ryder is a doctor and Major in the Calvary, he has known Timothy and Tessa since they were young, and he is committed to raising them in the Fort like he knows his sister and her husband wanted.
Priscilla get's an extension on her leave, in order to take the summer to work things out with Elliot.
Priscilla has never met Timothy and Tessa before, because her mother hated the military and cut off her brother when he chose to join. Priscilla is not travelling alone, and her travelling companion Fern is coming to Fort Bliss to marry her fiance, Harry. Fern adapts quickly to her new life, unlike Priscilla, who is unafraid to show her disdain for all things military.
Elliot and Priscilla's relationship starts out on rocky ground because they both see the other as trying to take the children away, but as they work together, they come to admire the other and how they relate to the children. Elliot and Priscilla share a strong faith, and pray with the twins, leaning on their faith in times of trial. I liked how Priscilla comes to admire Elliot, and how the life he has chosen has helped him to use his talents.
Overall, this is a great read that bring to life the pride, protocol, and hardships of military life in 1874. Full of action, drama, family and faith, this book has wonderful characters, and I loved how Elliot and Priscilla worked together to care for the twins. Excellent storytelling, I would definitely recommend this book!
Disclosure of Material Connection: I received one or more of the products or services mentioned above for free in the hope that I would mention it on my blog. Regardless, I only recommend products or services I use personally and believe will be good for my readers. I am disclosing this in accordance with the Federal Trade Commission's 16 CFR, Part 255: "Guides Concerning the Use of Endorsements and testimonials in Advertising."