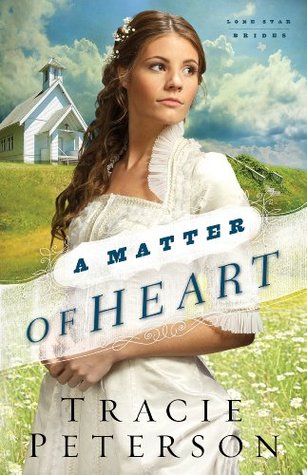 Lucie's Review:
Jessica Atherton is taking stock of her life. Now that the man that she always thought that she would marry someday has found someone else Jessica has come to see herself in a new light and she doesn't like what she sees. She cared more about fancy clothes and traveling the world than she did about helping others or learning useful life skills like cooking. But now she is determined to change, but it won't be easy.
For those of you who have been following this series, you may be pleased to learn that the mystery of missing paper finally comes to a conclusion. And the mystery is what brings Austin Todd of the Texas Rangers to town. Austin moved to Texas to get away from the nightmares of his past, and he is determined to keep everyone at an arms length. But then he didn't count on friendly folks like the Barnetts ushering him into their lives. And it is at the Barnett's that he meets Jessica, and is struck by her quick wit and forthrightness.
The dialogue between Jessica and Austin is great and moves their relationship forward, though their interaction is rather sporadic. Great characters and plot, though it a is a bit choppy at times, with plenty of introspection, which makes it kinda slow at times.
I really like Jessica's parents who really encouraged her to turn to God and her Bible instead of trying to change everything all on her own. I really admired Jessica for her determination and her willingness to take the steps needed to change.
Overall, an enjoyable read, with plenty of familiar faces and new friendships forged.
Disclosure of Material Connection: I received one or more of the products or services mentioned above for free in the hope that I would mention it on my blog. Regardless, I only recommend products or services I use personally and believe will be good for my readers. I am disclosing this in accordance with the Federal Trade Commission's 16 CFR, Part 255: "Guides Concerning the Use of Endorsements and testimonials in Advertising."