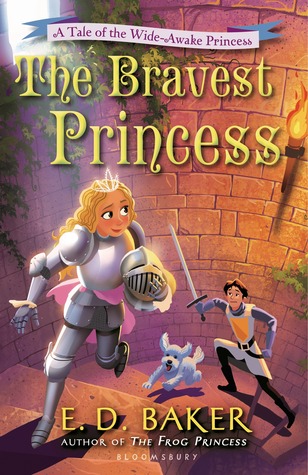 My Review:
The adventures of the Wide-Awake Princess continue in this sweet mash up of fairy tales.
Annie's sister Gwendolyn is finally marrying her prince, yet Annie cannot help but still feel like an outcast as many of the guest avoid her, afraid of being as beautiful as they are made by magic. But when her friend Snow White calls on her for help, she and Liam travel to her kingdom to help her find her missing evil stepmother and find true love.
Will they be able to rise the challenge and find the evil queen before it is too late?
A humor laced fairy tale, from E.D. Baker. Funny and sweet, this book was a welcome read for me, as I have long been a fan of E.D. Bake since around the time that her hit
Frog Princess
was a brand new book.
I think my favorite thing about this book was how all of the princes were vying of Snow White's hand, in their own silly and at times insincere ways. Especially as some of the princes were returning characters from previous book in the series, some of them even had once tried to court Gwen (Sleeping Beauty).
One of my favorite characters had to be Dog, who was of course a dog, but he could talk. And he had a way of saying things in just a typical guileless, straight out honest way that I thought perfectly captured his character.
Overall this was a great installment in the series, and for me it was a bit of a throwback to when I was younger and read these types of books more frequently. Definitely a fun book for fans of princesses and fairy tale adventure!
Disclosure of Material Connection: I received one or more of the products or services mentioned above for free in the hope that I would mention it on my blog. Regardless, I only recommend products or services I use personally and believe will be good for my readers. I am disclosing this in accordance with the Federal Trade Commission's 16 CFR, Part 255: "Guides Concerning the Use of Endorsements and testimonials in Advertising."