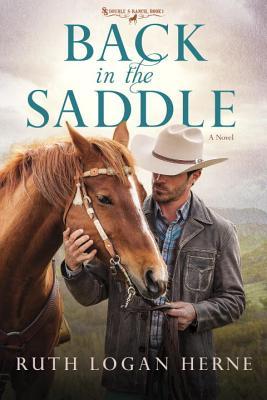 Lucie's Review:
Sam Stafford is the owner of the Double S Ranch, and he helped Angelina when she needed it most, giving her a job as a cook and housekeeper. And she has given him much in return, friendship, as well as introducing him to her faith.
Colt is home after his Wall Street dreams left him broke and alone, he's hoping to find his way again, returning to his roots. Even though he an his father parted on less than pleasant terms, the last thing Colt expected was to be welcomed home by a shotgun pointed at his chest, by a beautiful woman. Also his younger brother Nick has been at his father's side the whole time that Colt was gone, and doesn't welcome Colt's recent inclusion in ranch affairs.
Will Colt be able to mend fences with his family, or will the glitz of Wall Street call him back to the city?
Colt's reception at the ranch isn't exactly warm, but he is pleased to find his horse Newsie still there, and though his younger brother, Nick has his doubts, Colt still knows how to "Cowboy Up." Even though it isn't easy, he soon sees that he is needed, what with Nick busy trying to run the ranch in spite of Sam's illness, as well as being a single dad to his two daughters, Cheyenne and Dakota.
I liked the camaraderie between the Staffords and their hired hands, who aren't afraid to give their employers a good natured hard time every now and then.
Angelina is tough, a great cook, and house manager, and she can talk straight to Sam, and she loves Nick's girls. But she has her secrets, and she's afraid that Colt is digging too deep.
Overall, a fantastic read from beginning to end, I loved seeing Colt reconnect with his love of the land and ranching. Engaging and infused with touches of humor, this is a great feel good read, that has you cheering for everyone along the way. I am a huge fan of Ruth Logan Herne, and I can't wait to read the next book in the series!
Disclosure of Material Connection: I received one or more of the products or services mentioned above for free in the hope that I would mention it on my blog. Regardless, I only recommend products or services I use personally and believe will be good for my readers. I am disclosing this in accordance with the Federal Trade Commission's 16 CFR, Part 255: "Guides Concerning the Use of Endorsements and testimonials in Advertising."
Landing page:
About the book:

Back in the Saddle (Multnomah, March 2016)

The prodigal is coming home.

It's been a long time since Colt Stafford shrugged off his cowboy legacy for shiny Manhattan loafers and a promising career on Wall Street. But when stock market manipulations leave him financially strapped, the oldest son of legendary rancher Sam Stafford decides to return to the sprawling Double S ranch in Gray's Glen, Washington. He's broke, but not broken, and it's time to check in with his ailing father, and get his legs back under him by climbing into the saddle again.

He doesn't expect to come home to a stranger pointing a loaded gun at his chest---a tough yet beautiful woman that Sam hired as the house manager. Colt senses there's more to Angelina Morales than meets the eye and he's determined to find out what she's hiding . . . and why.

Colt's return brings new challenges. Younger brother Nick has been Sam's right-hand man at the ranch for years and isn't thrilled at having Colt insert himself into Double S affairs. And the ranch's contentious relationship with the citizens of Gray's Glen asks all the Stafford men to examine their hearts about what it truly means to be a neighbor. And as Wall Street recovers, will Colt succumb to the call of the financial district's wealth and power---or finally the courage to stay in the saddle for good?
About the author:


Ruth Logan Herne
has more than half a million books in print, including fifteen Love Inspired contemporary novels.
Back in the Saddle
is the first book in her new western romance series. Ruth is a founding member of Seekerville, a popular writing collective blog. A country girl who loves the big city, Ruth and her husband live on a farm in upstate New York.