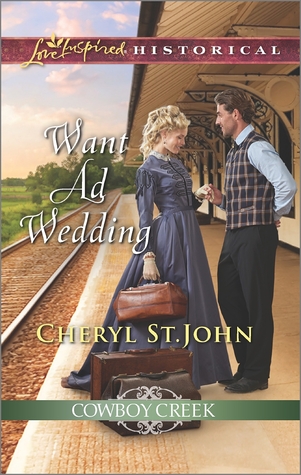 Lucie's Review:
Leah is a widow looking for a new start, so when she sees an ad for a mail-order bride in the boom town of Cowboy Creek. She thinks this may be the second chance she's looking for, little does she suspect that two of the men in search of brides are old friends that she grew up with in Pennsylvania.
The last person that Daniel expected to see step off that train, was Leah, the woman that he used to love. When he learns of Leah's situation, he offers to marry her, because he wants to care for her, and build a family together.
Will Daniel and Leah get a second chance at love?
The first in a new series about the men and women of Cowboy Creek, finds old acquaintances reuniting in this delightful, and endearing story. I liked Leah from the start, she is a recent widow and looking to start again. She wants to help the women of Cowboy Creek with her midwifing skills.
Daniel is an intelligent man with big ideas, he built the stockyard, and helped plan and build most of the buildings in the town. He is ready for love and a family and wants to provide a good future for Leah.
Overall, a fantastic new series, with great characters, and dialog. There are other women who come to the town in search of a new start and dare to dream of love. I loved the adventure and mystery, and I can't wait to read the next book in the series!
Disclosure of Material Connection: I received one or more of the products or services mentioned above for free in the hope that I would mention it on my blog. Regardless, I only recommend products or services I use personally and believe will be good for my readers. I am disclosing this in accordance with the Federal Trade Commission's 16 CFR, Part 255: "Guides Concerning the Use of Endorsements and testimonials in Advertising."