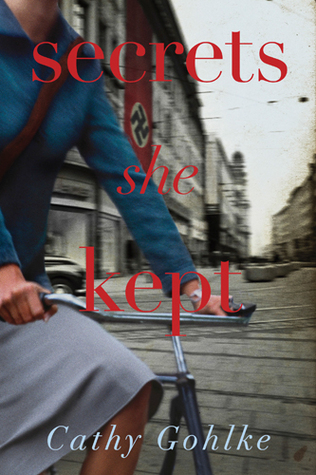 My Review:
Hannah Sterling was never close to her mother. She never understood why her mother always seemed to hold her at an arms length, while her stepfather smothered her with love and attention. Upon the death of her mother, she discovers things about her mother that sends her on a journey to find out the truth about her mother, and who her biological father is.
Hannah's journey take her to Germany, and country still healing after WWII, there she meets her grandfather, and his trusted friend Dr. Peterson. But things are not as they seem in her mother's childhood home, and there are dark secrets that point to a devastating past. Hannah befriends Carl, the driver that her grandfather hired to show her the sights in Germany, and together they embark on a quest to find out the horrible truth of what happened so many years ago.
A gripping and emotional read that tells two parallel stories about 30 years apart, that of Hannah Sterling and her quest to know her mother, and that of her mother, Lieselotte, a young woman growing up in Nazi Germany. The two stories ebb and flow into each other, perfectly wending, building in tension as the stakes grow. The two stories were well balanced, and I was quickly drawn into the lives of two different young women, as they both uncover the dark secrets of their family.
What really stood out to me was how equally and completely invested I was in both stories, typically in a story like this that goes between two characters, it's easy to favor one story over the other, but I had no such reaction--I loved them both. Each chapter perfectly flowed to the next, as the pieces fell in place, and I couldn't put the book down!
All of the characters were so well developed, Dr. Peterson made my skin crawl. And two of my favorites were Lukas and Frau Kirschman, especially Frau Kirschman who like a mother to Lieselotte and sacrificed so much for her. Lukas was so brave, and he didn't let fear keep him from standing for what was right. I really liked Carl too, his friendship was a bright spot in Hannah's search for answers, and his unique view of the past was very brave and brought clarifying contrast showing the aftermath of WWII in German hearts.
Masterfully told, this is an unforgettable tale of finding family, faith, and love, and even in times of unspeakable cruelty and hardship, there is hope. A gripping read, that I couldn't put down, and the characters stayed in my head long after the last page was turned down. Probably one of the best books I have read this year, this book had me heart and mind, I was a huge blubbering mess by the end. This book truly has it all, the characters, the mystery, suspense, adventure, heartbreak, love, romance, family drama, war, forgiveness, secrets, and so much more, this is a book that you will not forget!
Disclosure of Material Connection: I received one or more of the products or services mentioned above for free in the hope that I would mention it on my blog. Regardless, I only recommend products or services I use personally and believe will be good for my readers. I am disclosing this in accordance with the Federal Trade Commission's 16 CFR, Part 255: "Guides Concerning the Use of Endorsements and testimonials in Advertising."