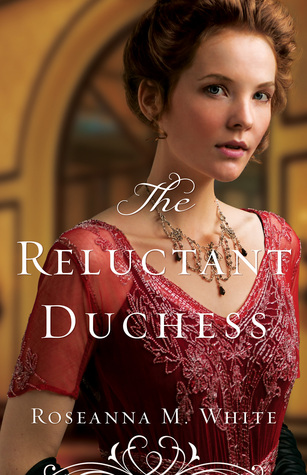 Lucie's Review:
I was thrilled when I picked up this book and found out that it was about Brice, who was one of my favorite characters in the last book, he was a faithful friend to Brook in the last book, and I couldn't wait to read his story!
Brice is the Duke of Nottingham and the most eligible man in England, he is polite and charming, but tied down to none. Every year Brice and his family visit his mother's ancestral home, and though they are acquainted, they never socialize with the Kinnairds, so they are surprised when Lady Lochaber and her daughter Rowena come calling.
Rowena will do anything to escape the men who have shattered her life, she is willing to live the life of an outcast if that is what it will take. But when Brice agrees to marry her and take her back to England with him, she wonders what the unknown will hold, and dare she hope for love?
I greatly admired both Brice and Rowena. Brice is a man of God, and he follows the Spirit's leading even when he doesn't understand. And Rowena grows so much over the course of the book into a woman of faith, strength, and compassion, standing by her husband in the good times and bad. Though at first tings are beyond awkward between them, there is a natural race and a genuineness to the characters, and I loved how they came to trust and care for one another.
Overall, this book is a treasure, and once I picked it up I couldn't put it down. I loved how it also kept up with the "fire eyes" diamonds storyline from the previous novel. You will fall in love with Rowena and Brice in this captivating romance of faith.
Disclosure of Material Connection: I received one or more of the products or services mentioned above for free in the hope that I would mention it on my blog. Regardless, I only recommend products or services I use personally and believe will be good for my readers. I am disclosing this in accordance with the Federal Trade Commission's 16 CFR, Part 255: "Guides Concerning the Use of Endorsements and testimonials in Advertising."