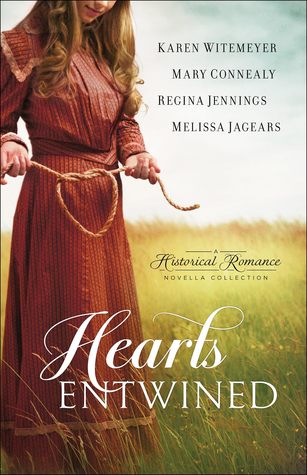 Lucie's Review:
Love Knot
Claire came to Texas as a mail-order bride, but didn't end up getting married. She now lives in Harper's Station as a midwife, and sending home money to the her family. When her sister asks her to meet the train, because she is sending her something she is shocked to receive...her nephew?
Pieter van Duran agrees to accompany his infant nephew, Liam, to Harper's Station in order to deliver him to his aunt. Pieter has dreams of starting a dairy farm, and winning back the only woman he ever cared for.
Sparks fly between Claire and Pieter from the moment he steps off of the train. She's a fiery red-head with an Irish accent, and a way with words. While Pieter is a stoic Dutchman of few words, though meaningful and to the point.
Pieter is a man with a mission, he is humble and determined, he wants to be a part of Liam's life no matter what happens, and relishes this opportunity to prove himself. I love how Pieter's family is close to Claire's, and how they are both strong believers.
An engaging read, with fantastic characters that quickly captured my heart. Great dialog and touches of humor, but a story that also packs an emotional punch. My favorite of the collection.
Tangled Ties That Bind
If you are familiar with the Kincaid Clan then you will appreciate this story even more, Seth and Callie's son, Connor, returns home and finds that he is in for more than a few surprises.
Maggie is all grown up and after Connor left, she found the courage to follows her own interests, and she is currently training to be a doctor. She's committed to her education, and won't let his return get in the way of her dream.
Full of action, humor, and great dialog that grows theirs relationship. I love how Maggie and Connor are reunited and reconnect.
Bound and Determined
Camels don't like horses, and neither to cowhands. Private Bradley Willis has been assigned to escort the camels with their owner, and his beautiful daughter.
Bradley is more than a little shocked when he discovers his assignment, but he is a man bound by his word and he comes to respect the Captain, and admire Ambrosia during their trek.
An enjoyable adventure with a great ending!
Tied and True
Marianne and Calvin have known each other for a long time, but her family is wealthy and Calvin is not, so he is afraid to make a move. But that doesn't stop Marianne, she is a caring and compassionate young woman, who treats everyone around her with dignity. She doesn't care what others think, and I admired her strong spirit.
Disclosure of Material Connection: I received one or more of the products or services mentioned above for free in the hope that I would mention it on my blog. Regardless, I only recommend products or services I use personally and believe will be good for my readers. I am disclosing this in accordance with the Federal Trade Commission's 16 CFR, Part 255: "Guides Concerning the Use of Endorsements and testimonials in Advertising."