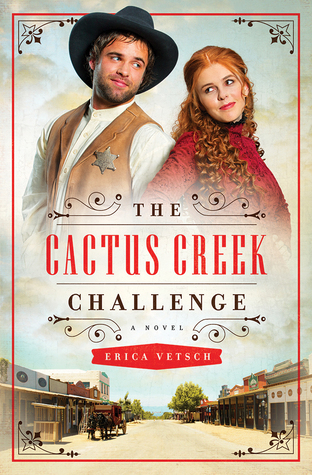 Lucie's Review:
Get ready for some major laughs as the townsfolk of Cactus Creek switch jobs and find out how hard the things other people do with ease really are! It's the first time in this town tradition's history that the women are allowed to participate, and this year;s challenge is sure to be a doozy!
This book follows Ben , Cassie, Jenny, and Carl, as they take on each other's jobs for a month. Cassie becomes the town sheriff, Ben becomes the new schoolteacher, while Jenny takes over the livery, and Carl runs the bakery.
Ben quickly discovers that teaching a classroom full of children is much harder than he thought, especially with the rambunctious set of twins that love to give him trouble. But despite his less than enthusiastic attitude, he finds that there are many things that the children can teach him.
I loved how Jenny took one the challenge of running the livery, even though she is quite petite and has never even hitched a wagon up before.
Carl knows that he's out of his element, but he doesn't let that scare him away, as he is open to learning and quickly befriends Jenny's shy little girl.
Cassie has a challenge in front of her, as she must work alongside the deputy, Jigger, a man who doesn't like taking orders for a woman, especially when her first order of business is to clean up the jailhouse!
Overall, a terrific read with a unique and hilarious plot, and fantastic characters who captured my heart and made me smile and cheer right along with them. I loved how they grew and learned. A highly engaging and entertaining read, highly recommend!
Disclosure of Material Connection: I received one or more of the products or services mentioned above for free in the hope that I would mention it on my blog. Regardless, I only recommend products or services I use personally and believe will be good for my readers. I am disclosing this in accordance with the Federal Trade Commission's 16 CFR, Part 255: "Guides Concerning the Use of Endorsements and testimonials in Advertising."