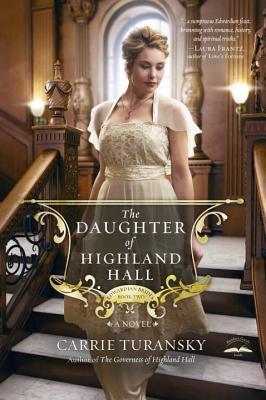 My Review:
Katherine Ramsey is excited to make her debut and capture the attention of a wealthy heir, and despite her horrible presentation to the royal family, she is doing her best to live up to Aunt Louisa's expectations, and secure an acceptable proposal. But when a young medical student crosses her path and surprises her with his genuine dedication to the Lord and helping those in need. She can't help but wonder if a different life is what she is being called to...
The Daughter of Highland Hall
more than lived up to my high expectations. Julia and William are making plans for their wedding, while Aunt Louisa is preparing Kate for her coming out...In typical Aunt Louisa fashion...
In this book Kate really comes into her own, leaving childish ways behind her, proving that she is so much more than a rich debutante. I loved Jon from the very first, he is a man of God with a true heart for helping others. I loved how he helped Lydia find her sister. Jon was probably my favorite character, because of his strength of character. He knew what he believed and always thought the best of others.
This was a engaging read, and though it took me a while to finish, (because I had to put it down to go to work and study for exams), I found that every time I picked it up again I remembered exactly what had happened last, so I could dive right back in. Which only serves to prove how memorable this book is!
Overall a fantastic read, that swept me away into the glamour and grandeur of a London season, filled with parties, suitors, as well as the east end, ravaged by poverty. I loved how Jon and Kate's friendship grew and they were both challenged by the obstacles that they faced. A book that I highly recommend!
Disclosure of Material Connection: I received one or more of the products or services mentioned above for free in the hope that I would mention it on my blog. Regardless, I only recommend products or services I use personally and believe will be good for my readers. I am disclosing this in accordance with the Federal Trade Commission's 16 CFR, Part 255: "Guides Concerning the Use of Endorsements and testimonials in Advertising."